For some, eating is simply a necessity of life and little else. But for others, food is an adventure. When those people travel, the best local cuisine is eagerly sought out and sampled. America is well-known for its regional cuisine. New England has its lobster rolls, New Orleans for its Creole and Cajun cooking, and Philadelphia for its cheesesteaks.
Diners expect diverse cuisine in New York and San Francisco. Overall there are many other gems for foodies across the country. Many of which, they're even surprised to find. We compiled a list, in no particular order, of some of the best cities in America for food lovers. Check out the best US cities for food lovers below.
30. Portland, Oregon
Portland is known as a haven for lovers of craft beer, ciders, and locally-produced wine. Along with those quality beverages, Portland offers a burgeoning food scene. Besides innovative restaurants which feature locally grown produce (organic, as a rule), Portland is sprinkled with food carts and open-air markets.
From fine dining to fresh street food, Portland is a food lover's dream. It also offers more coffee shops per capita than any other city in the country. Many serve coffee from beans roasted on the premises. There is also no shortage of donut shops. Those donut shops are known for offering unusual, alluring flavors and shapes.
29. Charleston, South Carolina
The thought of Southern food conjures images of barbecued pork, black-eyed peas, cornbread, and greens. But Charleston offers some of the best of traditional Southern comfort food to be found anywhere. The city boasts fresh-caught seafood.
This includes roasted oysters, low country mussels, and a local favorite – shrimp and grits. You can enjoy lunch at a genuine pit-barbecue sitting at picnic tables. Later that day, dinner can be had, served on a white tablecloth alongside an impressive view of the harbor. For diversity of flavors in a stunning setting, Charleston is second to none.
28. Philadelphia, Pennsylvania
If someone wishes to start a spirited debate in the City of Brotherly Love, they merely have to debate where the best cheesesteak is sold. Philadelphians and their guests eat more than 60,000 cheesesteaks daily. Cheesesteaks are as much a part of the city as the statue of Rocky or the Liberty Bell. The iconic sandwiches are typically served with the attitude that is part of Philadelphia culture.
But Philly offers much more to foodies. The Reading Terminal Market – one of the oldest in America – offers produce local and exotic. They also have an unbelievable selection of meats, seafood, and poultry, and everything needed to prepare them. Visitors find cookbooks, tableware, pots and pans, and flowers for the table. For those who want their cooking done for them, there's a selection of restaurants waiting to serve them all types of ethnic cuisines. Including cheesesteaks.
27. Washington, D. C.
In 2016, Bon Appetit named Washington D.C. as America's Restaurant City of the Year. Perhaps that shouldn't surprise, given the large international population of the nation's capital. Restaurants aren't the only reward for foodies found in the city either.
Washington abounds with markets offering organic produce from nearby farms and ethnic food stalls for hungry shoppers. At Union Market, visitors can sample Cuban, Israeli, or Korean food, for example. At Dupont Circle Fresh Farm Market, organic and local produce is sold only on Sunday. This led to it being named one of the best farmer's markets in the United States by the Financial Times of London.
26. Denver, Colorado
Denver, of course, has an omelet that bears its name. Few consider it to be a food mecca, though that reputation is changing. Innovative chefs, craft beers, liquors, and the occasional use of cannabis as an ingredient in both food and drink have created a thriving restaurant scene.
Rocky Mountain Oysters, an admittedly acquired taste, can be found prepared in a wide variety of ways, though deep-fried is most common. Denver, like other Colorado cities, supports a farm-to-table philosophy in many restaurants. It also does so in its large markets including Denver Central Market and the Stanley Marketplace. The latter features over fifty independently-owned businesses where people can eat, drink, shop, and play.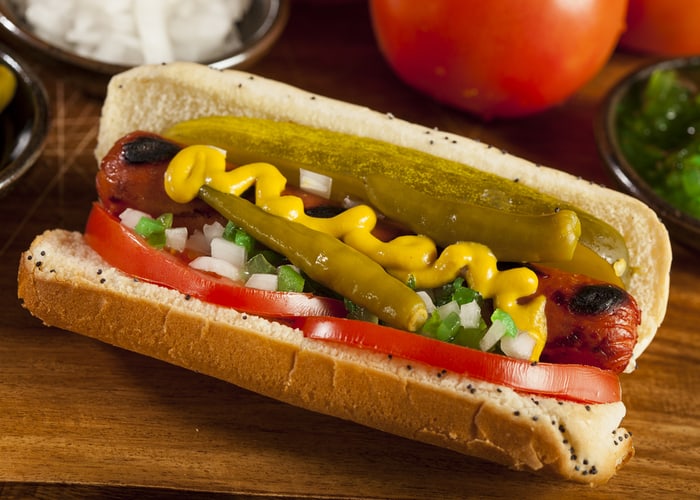 25. Chicago, Illinois
The notoriously outspoken Chicagoans have reason to brag, at least when discussing their food options. They were once the butcher to the world. That's no longer true for. However, Chicago can boast of more than 20 restaurants with a Michelin Star. Its large ethnic population offers a wide variety of cuisine to its citizens and visitors.
Tourists can find the city's famous hot dogs offered throughout, including Vienna Beef hot dogs at the city's airports. They are served in an astonishing number of ways, several even labeled "Chicago Style". Of course, the city is also well-known because of its indulgent deep dish pizza.
24. Austin, Texas
As of this writing, Austin is the third-fastest growing city in the United States. It's known for a growing international presence and population. For the past two decades, its food community was a trendsetter due to the development of high-quality food trucks serving meals on the street. Its recognition was also boosted as a result of the city's farm-to-table movement, craft beers, and wine.
Being in Texas all but guarantees high-quality and authentic barbecue thanks to the state's reputation in that area. But the city and its suburbs also offer a wide variety of ethnic cuisines and flavors. These include French-Vietnamese, Korean, Cuban, and more. With new restaurants opening at a surprising rate, Austin's dining scene offers both quantity of choice and quality of food.
23. San Diego, California
Some expect San Diego's tables to be laden with food presenting a Latino twist. While that's true, it's far from all the city presents. San Diego's location near produce farms and its diverse community have made it a mecca for chefs eager to utilize the freshest ingredients found anywhere.
Those chefs create dishes that mingle the Mexican, American, and Asian tastes. They use fresh Pacific seafood and locally grown fruits and vegetables to appeal to residents and visitors alike. The city's proximity to California's vintners doesn't hurt either. San Diego also created the California burrito, which includes many expected ingredients with french fries stuffed into the burrito.
22. Seattle, Washington
Seafood lovers can find all they want in Seattle. That includes wild-caught, fresh fish from the waters of the Pacific or nearby rivers. A large vegetarian and vegan community is catered to by numerous markets and restaurants in the Emerald City.
There's no shortage of coffee shops and bakeries offering fresh bread and rolls of all sorts. Surprisingly to some, wild game is found on some local menus, including American bison, wild boar, and venison. Seattle's Pike Place Market is internationally renowned. The market operates no fewer than five branch locations in downtown Seattle, open seasonally.
21. Cincinnati, Ohio
Cincinnati-style chili is a signature dish in the region, though a divisive one. Some find it delectable while others find it lamentable. The same can be said for a local product, goetta, a type of sausage containing pork blended with pin oats, seldom found elsewhere. It's usually enjoyed for breakfast by the locals.
The Queen City is home to a steadily growing restaurant community. It was driven by newly minted chefs opening establishments fusing diverse ethnic cuisines and American standards. It is also home to family-owned Graeter's Ice Cream, once lauded by Oprah Winfrey on her television program as "absolutely the best ice cream I've ever tasted."
20. Louisville, Kentucky
Louisville is home of the Kentucky Derby. It is also home to an astonishing number of establishments offering cuisine of the world with a decided Kentucky influence. Many use the state's signature beverage, bourbon. Chow-chow, a dish of cabbage and onions, is a uniquely Kentucky dish, as is burgoo.
The latter is a stew based on pork, though it could also be chicken, lamb, mutton, or a combination of all. Louisville's Brown Hotel invented a turkey and bacon sandwich smothered in Mornay sauce in 1926, calling the baked concoction the Hot Brown. Few foodies who venture to Louisville leave disappointed.
19. Orlando. Florida
For those who prefer chain restaurants, and there are millions, Orlando is a must stop. The city serves as the test market for chains and their menus, as well as fast-food restaurants. Disney parks include numerous restaurants which are training grounds for chefs.
In the city's neighborhoods, visitors can find independently-owned and operated restaurants offering innovative dishes with an ethnic flair. Vegetarian, vegan, and organic menus are well-represented in the city and its suburbs. Cuban and Brazilian fare can be readily found. There is also a large representation of Asian cuisine.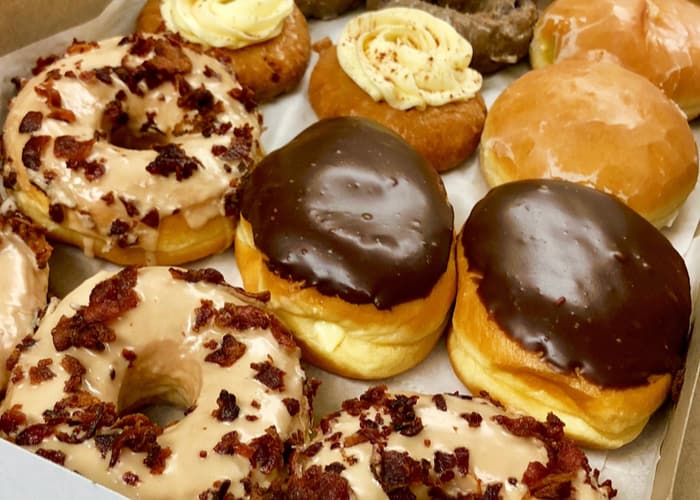 18. Boston, Massachusetts
Boston is a heaven for seafood lovers and those who prefer true clam chowder over the less palatable Manhattan style. The biggest temptation for food lovers in Boston comes from the humble donut. There are so many donut shops in Boston that it seems one is around every corner. Dunkin' Donuts was founded in nearby Quincy.
The competition is fierce, and locally-owned independent shops are creative in size, shape, and flavor. Almost all of them offer excellent coffee suitable for dunking. Donut lovers on a diet need to avoid the Athens of America, unless they can resist the temptation at a superhuman level.
17. New York, New York
New York City possesses 93 Michelin stars, more than any other city in the United States. No other American city offers the diversity of cuisine as the Big Apple. This ranges from hot dogs from street vendors to Dim Sum in one of the metropolitan area's several ethnic neighborhoods.
To get an idea of the diversity to be had in New York, a visit to one of the city's markets, Gotham West, Essex Market, Chelsea Market, or DeKalb Market Hall, all provide local flair. The one disadvantage to being a foodie in New York is the cost. The city is known as pricey for visitors. For the adventurous, all the world's cuisine can be found and experienced.
16. San Antonio, Texas
Lovers of barbecue and Tex-Mex cuisine could do worse than a visit to San Antonio. The city is home of the Riverwalk and the Alamo. San Antonio also features the Puffy Taco, its signature dish. Tortillas are fried so that they puff up. Afterward, they are stuffed with the usual ingredients found in tacos.
Pork pizzas are also a popular San Antonio specialty. Pork in many forms, including pancetta, salami, sausage, and pickled pork belly used as toppings. Asian cuisine is easy to find and often worth the effort, as is seafood in all forms. San Antonio also has the advantage of affordability due to Wallethub listing it as the number one city in the United States in that category in 2019.
15. Honolulu, Hawaii
In terms of cost, Honolulu surpasses even New York and San Francisco. But in terms of diversity of cuisine, the major Hawaiian city is well worth a visit due to its unique meals. Local sourcing and farm-to-table movements have taken hold in the islands.
The influence of Asian and Polynesian diets is ever-present. But other influences are present the islands, including Tex-Mex. An ice cream known as ube made from purple sweet potatoes from the Philippines is popular both due to its unique color and taste. Kona is just one of many premium coffees found on the islands. For those who love sushi, the city is a paradise due to its many outlets. Several inventive uses of pineapple are found throughout the city, thereby making the city even more unique for foodies.
14. Pittsburgh, Pennsylvania
In January, 2019, the BBC listed 10 destinations around the world foodies shouldn't miss. The only American city to make the list was Pittsburgh, Pennsylvania. Famous for regional specialties, the Steel City has become a fine-dining mecca because of them. It's also a street food capital. The city is known for foods based on its ethnic neighborhoods such as pierogis.
Pittsburgh's long-lost steel manufacturing jobs have been replaced with high-tech industries, bringing with them workers from around the world. Their diverse cuisines came thanks to them. They were fused in many new, innovative restaurants while developing a strong relationship with local growers and producers.
13. Rochester, New York
Rochester's infamous Garbage Plate is a trademarked name by its original creator, Nick Tahou. Similar dishes are found around the city under other names. Their called Trash Plate, Rochester Plate, etc. due to its somewhat nasty nature. Each plate consists of a combination of two or more servings of macaroni salad, macaroni and cheese, home fries, French fries, or baked beans.
On top is piled hamburger, cheeseburger, pulled pork, hot dogs or other sausages, steak, or chicken. For the more sophisticated palate, Rochester is also served by Wegman's. It's a grocery store where Asian, Indian, Mexican, Greek, and other ethnic foods are stocked. The stores feature cafés and salad bars which also offer a surprising array of foods thanks to their menus. Everything from Garbage Plates to Beluga caviar is easy to find in Rochester, therefore making it a foodie destination.
12. Richmond, Virginia
Richmond's food scene is unique. Competitors for the customer's patronage work together to create a better dining experience for all. New restaurants and menus are therefore developed to augment each other as much as compete.
Southern specialties such as catfish, rice, succotash, grits, pork, and many others are prepared and presented in inventive ways. The results have been noticed at an international level because of that competition. Richmond's food industry was an early adopter of the local and farm-to-table movements. The cooperative nature of the city's restauranteurs and chefs made it a relatively unknown foodie haven. For the most part, it's also an affordable one, making it a diner's dream due to multiple reasons.
11. Oakland, California
San Francisco is justly famous because of its diversity and quality of cuisine. Oakland, just across the bay, offers a similar diversity due to its own cuisine. The city is sourced for the most part locally and at a much more affordable cost as a result.
Swan's Market demonstrates Oakland's wide range of cultural influences in one location. It offers sushi, French-inspired cooking, fresh local seafood, and Mexican food. You can also find European style sausages, fresh bread of all types, craft beers, and local wine. These costs are much lower than those found across the bay. Due to many local ethnic backgrounds, Oakland is one of the most diverse cities in the United States. That's a fact easily recognized due to visiting restaurants and markets across the city. Its diversity makes it a must-stop for an adventurous foodie as a result.
10. Houston, Texas
Houston is the fourth-largest city in the United States as of this writing due to its burgeoning population. In 2018, GQ Magazine named the city the "capital of southern cool." This was due to the international flavor of its food scene.
In Houston, a food aficionado expecting to find good Texas barbecue will unlikely to be disappointed as a result. Also easily found is Asian food, Cajun and Creole, French, Spanish, and Italian cooking. Diners can also find seafood wild-caught because of the city's location close to the Gulf. Wild game can be found on some restaurant menus because, well, Houston is in Texas. Houston, like Austin, has become an international city thanks to the busiest port in the United States.
9. Las Vegas, Nevada
In the old days of Las Vegas during the heyday of the Rat Pack, food was an afterthought. Casino buffets were designed to lure in visitors. They were meant to sustain them between periods at the slots or gaming tables. No more was needed due to this focus on gambling.
Las Vegas is now a destination to celebrity chefs. This proliferated due to the launch of the Food Network and similar programs. Las Vegas has become a center of fine dining as a result. Even the buffets in the casinos reflect the approach to food in the city due to the new focus. Virtually all world cuisines are represented in the city. That has therefore made the city a destination for foodies based on its sheer diversity. Competition for tourists' dollars boosts quality due to the cutthroat competition present.
8. Los Angeles, California
Few cities in the United States are as health conscious as Los Angeles, or at least not as openly so. The concern over health and physical fitness is readily evident in the cuisine offered in the city. Vegan, vegetarian, and organic movements started there long before they spread to the East Coast and the hinterland. Los Angeles developed as a city of ethnic neighborhoods, and the food available in the city today reflects its heritage. LA's Grand Central Market displays the ethnicities of the city under one roof, as it were. There one can enjoy a Bento box, or barbecue, or fresh pasta, or chiquitos, or authentic German sausages in curry.
7. San Francisco, California
The City by the Bay enjoys an international reputation as a haven for foodies because of its endless cuisines. Seafood restaurants abound because of the city's placement on the ocean. All of them offer the bounties of the Pacific Ocean as a result. Freshwater varieties of fish are available as well. Asian restaurants, including Korean, Chinese, Japanese, Thai, Vietnamese, Cambodian, and Mongolian, are easily found virtually anywhere in the city.
Indian cuisine is present. So are French, Spanish, Italian, Greek, Portuguese, Hungarian, German, Russian, and other European cuisines. Scandinavian food is well-represented. San Francisco is also unfortunately known for the high cost of dining because of its reputation. But a careful study of where the locals dine can help ease the price burden for cost-conscious foodies visiting the city.
6. Sacramento, California
Sacramento is less well-known as a destination for foodies than other California cities. That is a shame because the city is a leader in the craft beer and local wine market. It was also one of the first in which its restaurant industry adopted the farm-to-table philosophy which is now widely popular and still growing in the United States.
Several of Sacramento's restaurants use seasonally-based menus to take advantage of what local producers provide. Surrounded by some of the world's richest farmlands and orchards, quality ingredients and talented culinary artists have made Sacramento a food destination of its own regard.
5. Miami, Florida
In most of America's ethnically-diverse cities, the fusion of ethnic foods with standard American fare is the rule. That's not so in Miami. The presentation of authentic ethnic foods, prepared with the ingredients and in the manner of the country from whence they came is the overriding concern of much of Miami's food industry.
Mexican food is defined and prepared according to the Mexican state where it originated. The same is true of Cuban, Brazilian, Peruvian, Thai, and other cuisines that dominate the Miami food scene. The standby in Miami is Cuban cuisine. It has been for decades, and will likely remain so for the foreseeable future.
4. Milwaukee, Wisconsin
Milwaukee is known for beer, bratwursts, and cheese. That's reputation well-deserved when considering its food status. For example, deep-fried cheese curds are staples in the city. Milwaukee offers far more than those three basics. Farm-to-table cooking has taken hold in several restaurants and bistros.
The city is known for the butter burger, the result of a pat of butter placed on top of a burger as it cooks, allowing it to melt into the meat. Substituting margarine is heresy. Milwaukee is also home to several German restaurants. Lovers of sauerbraten, sauerkraut, potato pancakes, and various wursts will find much in the city to please them. That includes good German and local craft beers.
3. Minneapolis/St. Paul, Minnesota
The Twin Cities are noted for a contribution to American cuisine. It is the Juicy Lucy, a hamburger with the cheese stuffed into the burger rather than on top. The sandwich is a favorite at many bars and restaurants, with several claiming theirs is the best to be had.
Foodies hankering for Scandinavian cuisine will find authentic Norwegian and Swedish breads and cheeses throughout the Twin Cities. Smorgasbords abound, with Swedish and Norwegian sausages and meatballs true to Minnesota's Scandinavian heritage. Some may be surprised to learn that wild rice is harvested in Minnesota and used in everything from soup to pancakes.
2. New Orleans, Louisiana
New Orleans is justifiably a foodie's delight. It is home to well-known dishes such as red beans and rice, boiled crayfish, and Po' boy sandwiches. Gumbo is ubiquitous in the Crescent City. Jambalaya, rice and vegetables mixed with chicken, shrimp, or sausage, usually andouille, is another standby.
New Orleans barbecue shrimp isn't typically barbecued. Instead, it is sautéed in butter with Worcestershire sauce and garlic. And no trip to New Orleans would be complete without beignets and chicory coffee in the French Quarter. New Orleans is also rightly famous for the muffuletta sandwich, a local invention containing several cured meats, olive salad, and cheese on sesame bread. A foodie's biggest problem in New Orleans is deciding when to stop eating.
1. Indianapolis, Indiana
Indianapolis is home to several foods that aren't exactly exotic. This includes fried bologna sandwiches (called baloney locally) and chicken and noodles on top of mashed potatoes. It's also home to Traders Point Creamery, located just outside the city.
The 150-acre organic dairy farm produces, besides milk, cheeses, ice cream, and egg nog. Its Loft Restaurant is entirely farm-to-table with its menu changed seasonally. Its dairy bar offers milkshakes that are entirely organic. A foodie visiting can finish off the fully organic meal with a slice of persimmon pie. Made from native persimmons from Indiana rather than the Japanese persimmons commonly found in produce markets, it's more cake than a pie.